Strange Wolf is in a grungy alleyway and down a flight of gloomy industrial stairs that lead to an underground bar/cafe with black walls and spot lights – very Melbourne.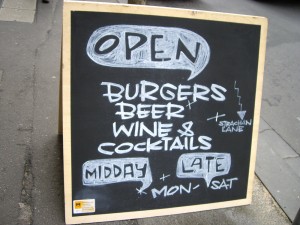 I saw the notice for hamburgers on the street and I can never resist a hamburger.  A place that serves only hamburgers has got to be good.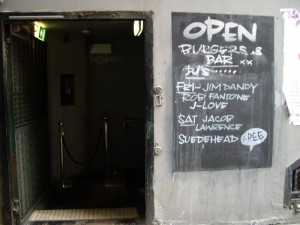 I left the grey drizzly street of a mid winter's Monday and disappeared into a black underground cave with spotlights and tea lights on the tables.  For some reason it was chilly here too.  The menu is hamburgers and more hamburgers and they do them well.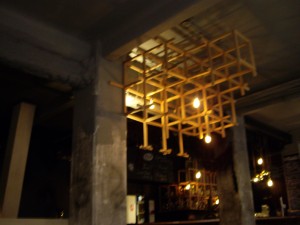 This is obviously a venue for the evening.  It needs to be packed with people giving off heat and a good buzz.  The procedure is to order at the counter grab a number and find a seat.  Most seats are uncomfortable stools with a squab, a knee high table and a tea light.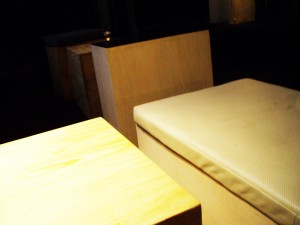 It may be hard to have a design that looks both urber-cool at night and welcoming and cosy during the day.   Strange Wolf may feel soothing and calm on a hot summer day.  I'll check that out in the summer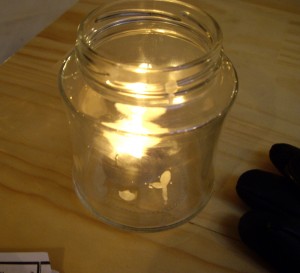 The service is adequate.  There are no smiles or grins just a quick thank you for the order, money taken and a number given.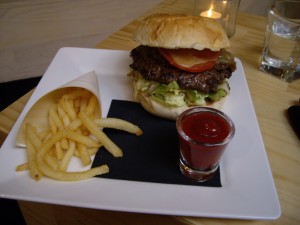 Wolf Burger $12.0 – grilled beef, caramelized onion, pickles, mozzarella, roma tomato & iceberg lettuce.
My hamburger appeared quickly and this may account for the lack of heat in the beef patty.  I wondered if it was cooked and waiting to be assembled with the bun and then whisked into the chilly dining room that quickly rendered it cold.
The flavour was delicious.
I ate and left.  No one asked if I wanted coffee or a drink although they advertise themselves as serving cocktails.
There are a couple of dark corners for intimate conversation.  They would be an ideal place to snuggle in if you didn't want to be seen.
I would eat Strange Wolf's hamburgers again but I would ask for the patty to be cooked while I wait.   I'll try this when the weather improves.
Where:-
Strange Wolf
Strachan Lane – off Exhibition Street, just round the corner from Collins Street,
Melbourne CBD
Opening Hours:-
Midday until late
Seven days a week
Trams:-
Any tram that goes along Collins Street
112, 86, 109