Brighten up a grey winter morning and take in the Graf Art  as you stroll  along Chapel Street, Windsor.  Of course it doesn't have to be the morning, anytime during the day will do.  But the  in-your-face colours gives a me lift on a grey morning.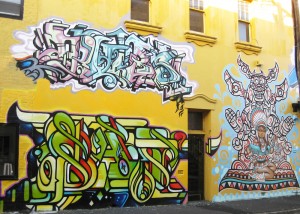 The corner of McIlwrick  and Chapel Streets (at Tarlo and Graham)
Most of the art is just around the corner off Chapel Street where there are big flat walls to the sides of the shops.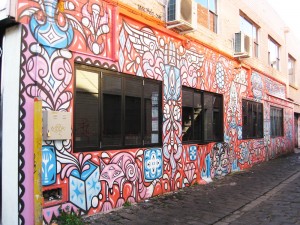 A lane way off  Duke Street 5 meters from Chapel Street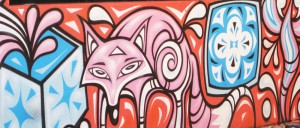 On a cold winter morning it is a flash of colour to lift the spirits.  Take a look next time you are in Windsor – that is the strip of Chapel Street from the Windsor Railway Station to High Street.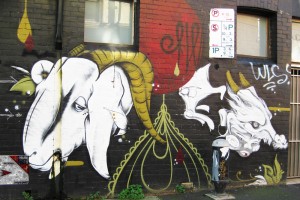 As seen from Chapel Street
It is hard to know what to call this art.  I have heard it called Graf Art, Street Art, Urban Art and I rather like the idea of it being Public Art; that is art that is available for us see as we go about our daily business.  We have the chance to admire, criticize, discuss it and ignore it as we  walk on by.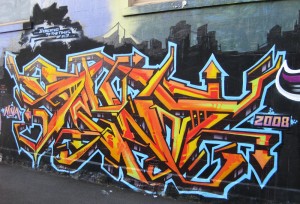 Corner of Union Street and Chapel Street.
My only wish is that it could be changed more often – like a shop window.  However vivid the piece, you stop seeing it after a while and it becomes part of the background.   I want to be startled out of my morning-fog with something new.
There is also this in the way of public art. Check here I always enjoy this on my way to the South Melbourne Market.
Getting there:-
Windsor end of Chapel Street
Tram
78 runs from St Kilda along Chapel Street into Church Street and then to Richmond.
6 from CBD to Glen Iris runs along High Street cross Chapel Street.
Trains
Sandringham Line to Windsor Station