Car park off Green Street
The laneway that leads to this car park off Green Street, Windsor, was dubbed Aerosol Alley by the artists who work in it.  Stonnington City Council has officially named it Artists Lane.  It is has yet to be sign posted.
The area is an open gallery of street art.  It is good to find that it is also a working warehouse area where tradesmen are on roofs and working in these art decorated buildings hammering and sawing away, as they have been recently. There are also delivery vehicles jamming it at times.  It gives it life.
It is paved in the bluestone blocks that are found in so many places in  Melbourne.   Laneways by their very nature are dinghy and sunless, this one is the same.  The difference is that it has been given a new lease of life.
If you are not familiar with Melbourne's laneways I hope this video gives you feel for what they are like and something of the atmosphere.  I have started at Union Street and moved towards Green Street.  I was there early one morning when artist Jono Tindall was working on one of his pieces.  He's at the end of the video.
This is what Jono was working on.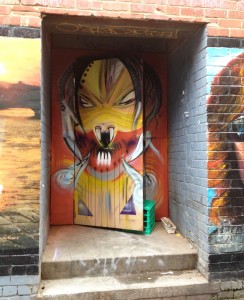 Jono's doorway is opposite the artists' gallery that is hidden behind a plain-black-painted roller door – no art work on this door.  It is all behind it.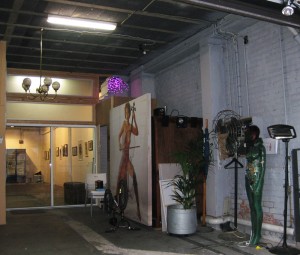 Gallery
Melbourne Artist Wayne Tindall is behind the project.  In 2009 he painted a picture of himself and his wife outside his studio in the laneway.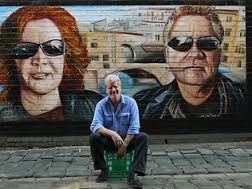 Photo used  with thanks to Google and Herald Sun
He got permission from the owners and the council for artists to paint the blank spaces that surrounded his studio. Finally  in March, this year, Wayne collected a number of artists together and they painted their own pieces.
A video was made of the occasion.  You can watch it here.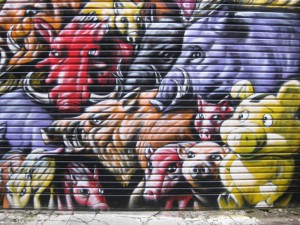 At the back of the Bendigo Bank.  The bank's logo is a piggy-bank.
This is a working laneway and as yet there are no cafes.  David Russell is the curator of  Chaotic.  The gallery is open in the afternoon and opens onto the laneway.  David says that they are arranging a show with 25 Artists on the 13 of September 2013.  You can contact him for more information about this event -see below.
Where:
Artists Laneway, Windsor
It runs behind Chapel Street from Union Street right behind the Tyranny of Distance Cafe to Green Street where it comes out beside the Stickybeak Cafe.
Chaotic Gallery:-
Behind the black painted roller door
Open:- Usually from 12 noon – check hours with the Curator
Contact:- David Russell, Curator 0448 216 700, david@chaoticstreetart.com,  Jono Tindall Artist in Residence 0447 640 400, jono@chaoticstreetart.com
Transport:-
Train: a few steps from the Windsor Station on the Sandringham Line
Tram: the 78 stops near Union Street.
Times: The weekend is good time. Delivery vehicles are not there and often some of the artists are.