Melbourne is the best but sometimes it is good to leave all the buzz and excitement for the surrounding countryside.  This hectic time of the year gets me craving for some air, quiet and space – Werribee Park is my choice when I feel like that – it's only 30 minutes from the CBD.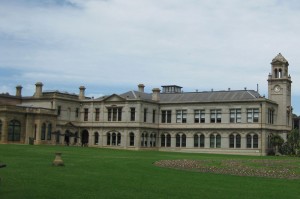 .
Werribee Mansion is set in the beautiful park with some  old trees that are on the Significant Tree register for Victoria.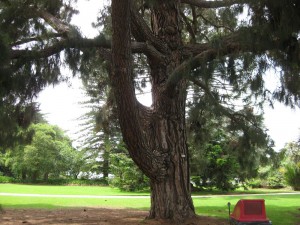 The mansion was built between 1874 and 1877 by the Chirnside family.   It is described as an exquisite sixty-room Italianate mansion.  Sixteen of those rooms are bedrooms.  Today a considerable portion of this once family home is refurbished in the style of its early days and is open to the public.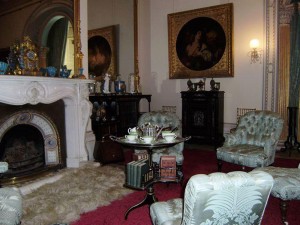 The rooms are  furnished either with the  original furniture and colours or with equivalent furnishings that reproduce the atmosphere of those leisurely colonial days.
One mind blowing part of  the house is the bachelor wing.  It houses a billiard room with the required  dead trophy animals on the walls and skin rugs complete with the head and glassy eyes on the floor.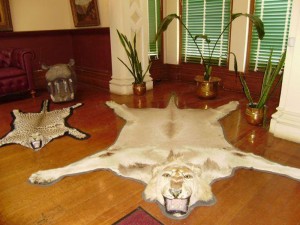 Then strangely and stunningly you have a beautiful conservatory leading from it.  The contrast is startling and it is hard to image gentlemen who left the dark masculine atmosphere of the billiard room feeling comfortable with their cigars and pipes in the light, bright feminine environment of the conservatory.  It gives a surprising and thought provoking view of the colonial gentleman.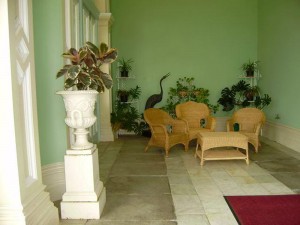 One of the most interesting moments was finding a charming blue stone building just outside the enclosed yard.  This was the laundry.  What makes it interesting is the charming visual and sound show that explains, with miniature figures, how the laundry was done for this huge household  – give me my automatic any day.
The ground are extensive – 400 hectares that are owned and managed by the Victorian government.   You could bring a picnic and relax under one of these ancient trees or admire the large formal garden that has been planted with petunias; not in flower yet.
This map gives you an idea of the area.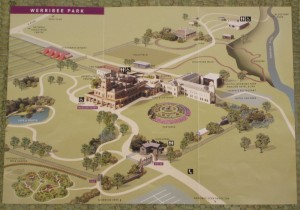 We had afternoon tea at the Sofitel Hotel and Spa which is now in one wing of the mansion.
We sank into comfortable deep couches and devoured delicate sandwiches,  newly bake scones, and a variety of cakes.  The cost was $25.00 per hear with bottomless cups of plunger coffee and tea or you could order your favourite espresso.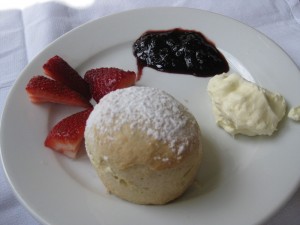 Getting there:-
Werribee Park is located just 30 minutes drive from Melbourne, via the Princes Highway on route to Geelong
(Melway Map 201 D 1)
The address is
K Rd
Werribee VIC 3030
Phone
03 8734 5100
13 1963
Web here
Entrance fee to the Park and the mansion
S14.00 ADULT, $9.00 CONCESSION , $33.00 FAMILY
Werribee Park Shuttle
The Werribee Park Shuttle Service operates daily return trips from central Melbourne to Werribee Park , Werribee Open Range Zoo, RAAF Museum and Point Cook Homestead. For further information and bookings phone (03) 9748 5094 or see the web site