The 2013 edition of the The Age Good Cafe Guide is now in the shops.  At publication date a promotional coupon in The Age allowed you buy a copy for $5.00. Excellent value.  Still extremely good value at the retail price of $8.99 and since publication the guide has popped up everywhere.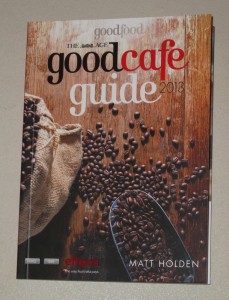 It is a very well organized booklet.  In the front are the cafes that got The Age Award, three, two or one cups a bit like Michelin stars.  None of the places I frequent got any cups at all.  I'm not sure what that says about me and my knowledge of coffee but I plan to hunt out some cafes with three cups and give myself some training on 'what the reviewers think is a good brew!'
The cafes are then listed in areas starting with the CBD.  This helps if,  for example, you are in Balaclava and want a coffee, you check out the St Kilda Area which is a sub section of  Inner South East and Bayside.
A check through the St Kilda section of cafes for an Age Cup Award and you find there are very few.  There's Dr  Jekyll at a 107 Grey Street with one cup     Then further up Grey Street at number 19 there is  Miss Jackson with two cups.
Balaclava a vibrant and increasingly trendy shopping area on Carlisle Street  can only rustle up one cafe with an award – Monk Bodhi Dharma at 202 Carlisle Street.  This cafe scores two cups.
It is worth grabbing The Age Good Cafe Guide 2013 even if it is only to check out your local area.  It is pocket size so good to have with you when you are out and about and are thinking of coffee or food.  The final page of the index tells you which places have free wi-fi – another piece of useful information.
What:-
The Age Good Cafe guide. It is priced at $8.99 from most retailers.  You'll find it everywhere at the moment.