The Albion Hotel is  alive and well.
I visited this Port Melbourne Pub first in January 2010.  (See here)   To find that some good things stay the same is very comforting. The decor is the same, the fires still burn and the people are still there.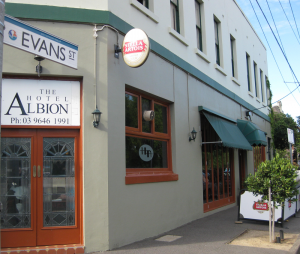 These days I often head off to some-place and find that it has been changed, revamped, taken over or simply vanished.  Chapel Street always disconcerts me this way.  The Albion Hotel was like coming home to find I could relax into the familiar.  My recent experience at The Albion Hotel was Locals Night.
Five us turned up at 6pm when the Bistro Bar Bar opened for business!  I remembered being  delighted with the quality and variety of the food available on local's night.  Since then the prices have increased from $14.50 to $15.50.  A glass of house wine still remains at $6.00 – all very reasonable.  I wondered if the quality of the food had stayed the same.   To test this I decided I had to order my usual hamburger – it is what I have eaten before.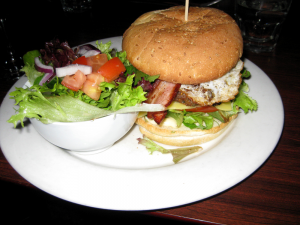 Beef burger with the lot
Nothing has changed at The Albion except there are more tables for the cheap bar meals.  September still has chilly nights and their two fires roared away.  We arrived at 6pm and all the tables near them had been taken.  I guess you need to get there in the middle of the afternoon and settle in to experience that luxury.
The food was great – great pub food and great eating  along with great service.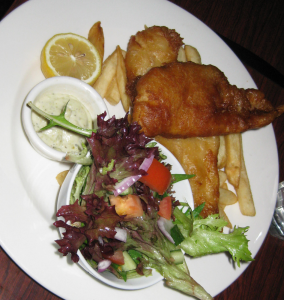 Beer battered fish and chips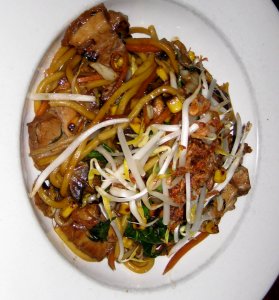 Chinese Pork stir-fry with Asian greens and Hoi kin noodles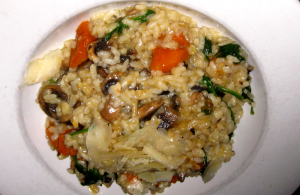 Pumpkin Risotto with spinach, mushroom and pinenuts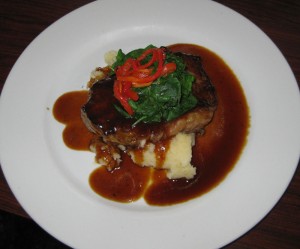 Steak of the day with mash, spinach and jus
We ordered at the bar but then the staff came and replenish our water and checked on the wine and generally looked after us.  This was nice and new in our experience.
The Albion Hotel
146 Evans Street
Port Melbourne 3207
Phone 03 9646 1991
Check the menu our here:-
http://www.hotelalbion.com.au/tha_menu_bistro.html
Getting there:-
Tram  109 to Port Melbourne.  Get off at stop 127 called North Port. Cross Turner Reserve and you are at the Albion Hotel
Opening Hours:-
Bistro Bar Open from 12.00 to 2.30 and 6.00pm to 9.00pm daily Monday to Friday. It is now closed in the weekends.
Monday and Tuesday are Local's Nights where the meals are $15.50.