Mention the Stokehouse where I live and everyone has an opinion and something to say about it.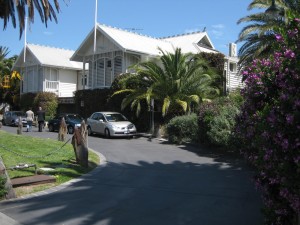 The entrance to the Stokehouse.
Its location has to be one of the best in Melbourne.  The view from upstairs is spectacular as I discovered during a couple of office Christmas lunches.  So good in fact that I wonder sometimes if it is worth asking a prospective employer where they have their Christmas party and grab the job if it is the Stokehouse.
However the view from the downstairs Beach Bar and Grill can be spectacular too.   Here you can choose to be part of the beach action and sit outside on the edge of the boardwalk.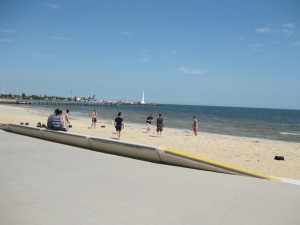 A view from the Beach Bar and Grill downstairs at the Sokehouse
A friend and I indulge ourselves at the Beach Bar and Grill a few times a year.  It has become our favourite weekend lunch place.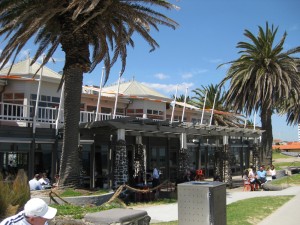 Outside at the Stokehouse Beach Bar and Grill
Our recent visit coincided with a sudden cold snap.  We planned to sit with our feet on the edge of the boardwalk, a chilled white in our hands and a beatific smile as we watched the passing parade.  Instead we sat inside near the open fire.  This was good,  not as good, but good.  If you angle your chair correctly you can see the cold choppy sea and the passersby bundled against the cold and at the same time get the heat from the fire.
If you go for lunch and want a special seat get there at noon when it opens.  It fills up quickly.  Of course there is no need to eat you can just call in for a drink but be warned The Bar is a popular spot.
I have found the food consistently good.  The menu changes often and on this visit we missed the polenta chips which had proved a great hit last time we were there.  However the steak sandwich, the special was good; the steak tasty and tender the aioli sauce delicious and the chips were crisp and golden.  We washed this down with a carafe of Riesling.  I like the size of their carafes.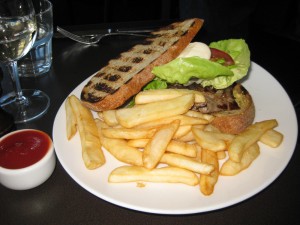 A lunch special – Steak sandwich with aioli
The Beach Bar and Grill downstairs at the Stokehouse is a good place to check out the bayside  ambiance.  If you take the location and the pleasure of dining on the edge of the beach into consideration it is good value.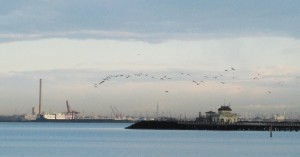 View from the Stokehouse to the St Kilda Pier
Lunch is my favourite time to go but if you go in the evening you can watch the sun set as you relax, eat and sip your wine.
Where:-
The Stokehouse
30 Jack Blvd
St Kilda
Phone 9525 555
Opening Hours:-
Beach Bar and Grill
Noon until late.
Food is served all day.
Getting there:-
Trams:,96,16,3 to Acland Street, then walk to the beach.
Car: There is a public car park opposite. It is pay and display.