Add some magic to your shopping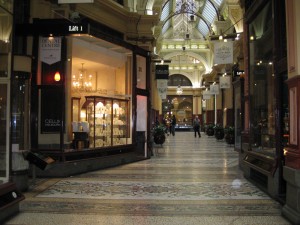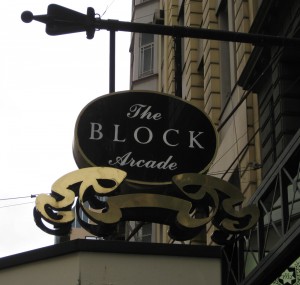 There is magic in the Block Arcade.  It grabs you and takes you back to the past.  It's a romantic past where  imaginations were given the money to roam.  The Arcade was designed  by David Askew for local financier.  The brief was to produce something like the Galleria Vittoria in Milan.
There is a distinct European flavour in The Block with its beautiful  glass ceilings, a glass dome in the centre, wrought iron and carved stone finishings.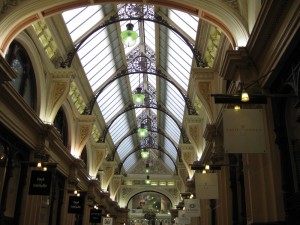 It is shaped like an 'L' with identical entrances on Elizabeth Street and Collins Street.  Strangely, most people enter from Collins Street and that is the busiest section.
The mosaic tiled floor runs throughout the precinct and the wooden shop fronts are elegant.  In fact the whole area is elegant.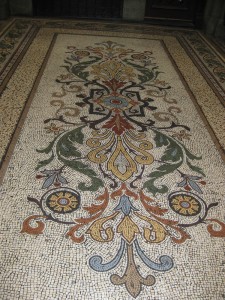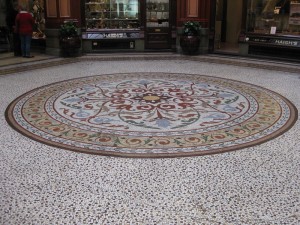 This stunning mosaic is under the huge central glass dome.  The dome is so large I didn't manage to get anything decent in the way of a photo to show it off.  You'll have to see it for yourself and try to take a photo.
I suggest you have coffee at the Cafe Duomo.  It's on the corner of the 'L' and runs into Block Pace that comes out in Little Collins Street.  You can gaze at all the splendor from an outside table and watch the passing parade. Coffee is strong and good.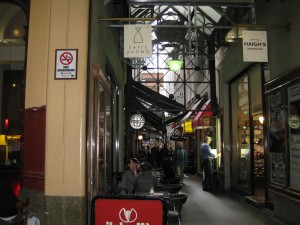 Another favourite place to eat is the Hopetoun Tearooms at the Collins Street entrance but I prefer outside at Café Duomo so I can see where I am and enjoy the experience as I watch people wandering around admiring and staring in that 'gob-smacked' sort of way.  You can tell the visitors from the locals.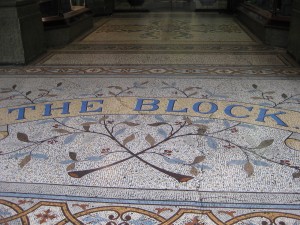 The Block Arcade is in the CBD Running between Collins Street and Elisabeth Street.  You can also enter from Little Collins Street and walk through the cafes in Block Place