There's magic in Melbourne.  I found some in Melbourne's CBD on Friday. The temperature was in the late 20s. Flinders Lane was partially closed for road works, and one side of Queen Street where they intersect was closed.
Flinders Lane was full of people, trucks, delivery vans, cars and roadworks.  We worked our way around workmen holding 'go' and 'stop' signs.   One road worker sneered at someone who came along towing a smallish yacht, "It's a nice day so I thought I take my yacht for a drive around the city,"  he announced. The length of this conveyance held up more traffic.  There was noise, grinding engines, dust, jack hammers and loud voices.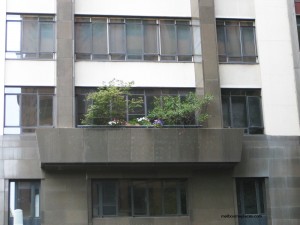 I looked  up and saw a beautiful window box on an upper window in Queen Street.  I caused more congestion by stopping to stare.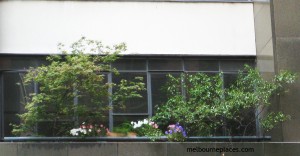 It was magic thrown into  the mayhem of Flinders Lane on a Friday lunch hour.  It lifted of the mood.
Where:-
The corner of Flinders Lane and Queen Street
Melbourne CBD