Summertime in  Melbourne is market time and markets spring up all over the place – Pre-Christmas I had great success with some Christmas presents at a market set up in the Elwood School grounds.
This flurry of summer markets led me to forget the markets that just keep-on-keeping-on.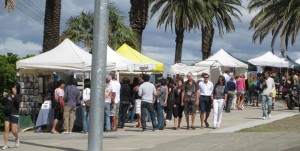 The Esplanade Market in St Kilda has been keeping on since 1970. And some of the stall holders have been there for most of that time.
The market runs  from Luna Park along The Esplanade to Fitzroy Street.  On my first trip to Melbourne, some years ago, I explored it with a family member and was fascinated.  I still have a pair of ear rings I bought on that visit.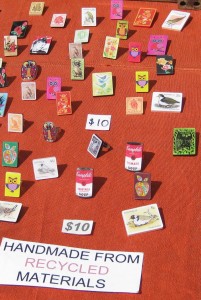 This time these brooches caught my eye.
The Market advertises itself as a "Makers' Market Place".  That is the stall holders must be directly involved in the production of the items they are selling.  This makes for an interesting mix.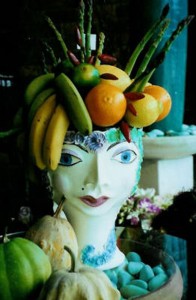 There is Jena Bedson's pottery that she describes as 'comic art'.
Much of the merchandise is familiar to me,  in that some of the stalls have been there for years.  Obviously the ones that stay the distance are quality and offer something the customers want.   Calypsoflash who sell pewter jewelery tell me they have been there for 38 years.  They now have their own website to display their creative pieces.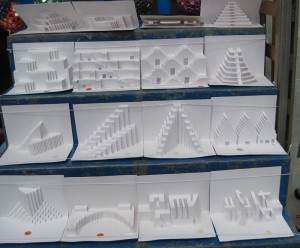 These architectural cards are stylish and beautiful.
There is a huge tourist-browsing population and many stall holders cater for them.   For example Matt Irwin's photographs are there and have been since my first visit in the 1990's.  Then I sent my mother a post card depicting a striking black and white  photo of one of Melbourne's  trams.  She still has it and they are still on sale.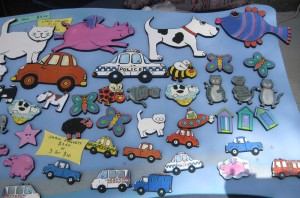 These magnets were doing good business – I bought 3 for $10.00.  They were delighting children who were spending $3.50 to go home with something cute and useful.   The stall holder creates the whole magnet from the painted design to the finished article.
The market is vibrant and most of the stall holders friendly.  They  will talk about their crafts and discuss in detail how they make the items.  If you are a craft person you can find inspiration – a sort of  "Wow, I could do that!"  But many crafts are time-consuming and for these people making and selling their wares a way of life.
Getting there:-
Trams 16, 3A and 79 to stop 31
Tram 96 to stop 138
Times:-
Sundays ( all year round) 10.00am to 5.00pm.