Melbourne is a city of public gardens and parks but sometime it's nice to soothe the soul in a  Melbourne place that is more like our own courtyard;  if we are lucky enough to have one.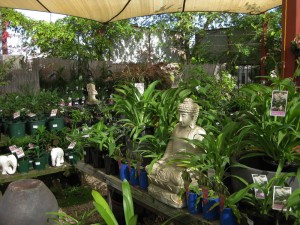 The Garden of Eden Nursery in Albert Park is a Melbourne place where you can recharge your batteries and dream about what you could do in your outdoor space.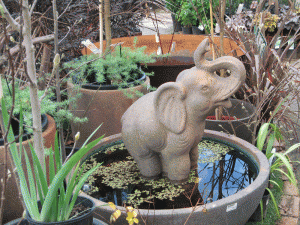 It  is a place to stop off, wander about and dream.  For a while you can imagine that the winding paths and the secluded nooks are your own.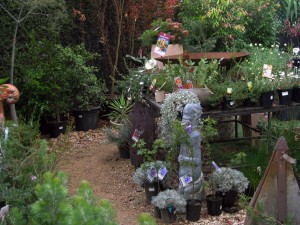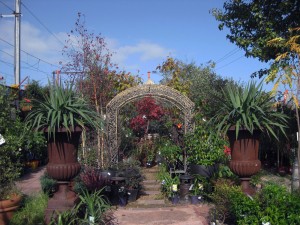 The staff will talk to you about the plants and they are knowledgeable and know what they are talking about.  They also let you wander and daydream.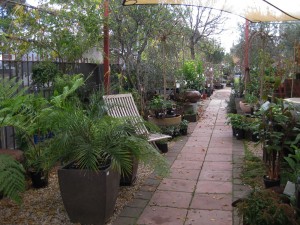 The building is part of the old Albert Park Railway station so while your musing on how to get that metal arch onto your balcony and then entwine the structure with plants, the 96 tram will slide into the station, doors open, then close again and take off . You have seen nothing because a block of wonderful trees and bamboo has obscured the mundane from view.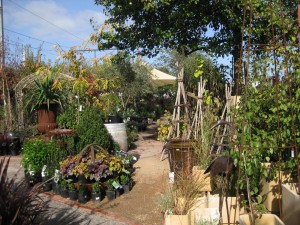 When I work in the area and need time out I pop in and soak up the atmosphere.  And sometimes I find it pleasant to get off the tram, browse and then pick up a later one.  They run frequently on the 96 route.
The Garden of Eden has been there for about 20 years so it is no wonder there are some well established permanent plants.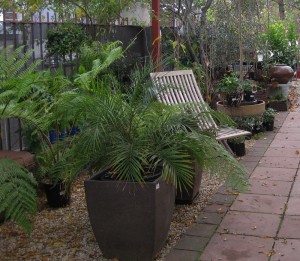 The staff is interested in sustainable gardens and drought resistant plants and there is a home-ware section in part of the old station that they share with the Railway Antiques and cafe.
I like their garden sculptures and the way they display them making this Melbourne place an oasis in which to escape the everyday world.
The soul soothing experience of the Garden of Eden nursery is free – you can just wander about.  It is of course a  commercial enterprise but no one stops you absorbing the ambiance.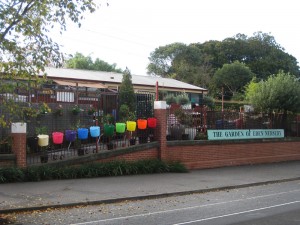 Garden of Eden
365 Ferrars Street,
Albert Park
Phone 9696 0551
Opening Hours:-
9.00  to 5.30 daily
Getting there:-
The 96 tram to the Albert Park Station
There is free parking on Ferrars Street
You will recognize The Garden of Eden by the bright coloured buckets hanging outside.