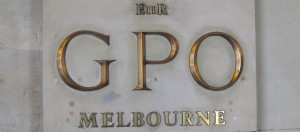 Design and display excellence, is on show in the CBD in the old General Post Office – GPO.
Spring and Summer has brought stunning decorations to create a sunny happy atmosphere.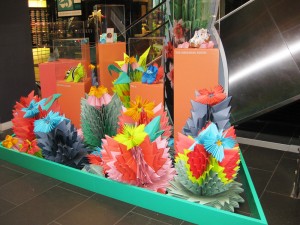 These are made from a folded stiff paper as is all this  creative and striking slice of  'nature'.
It is Spring/Summer here with colours reflecting the fashion colours  for this season.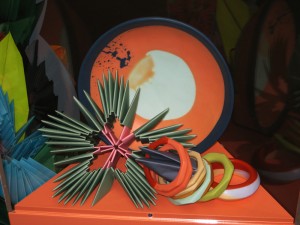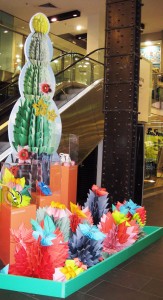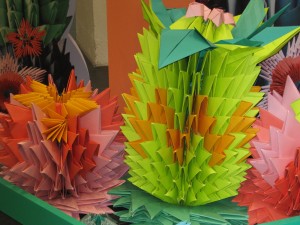 The GPO  is on the corner of Bourke and Elizabeth Streets, And yes, it is the old Melbourne General Post Office.  Sometimes it is hard to make the connection with buying stamps and posting parcels and  this fabulous shopping area even though we still call it the GPO.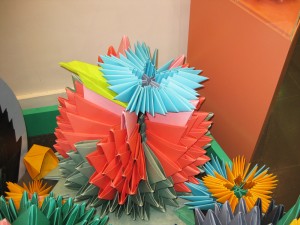 The atmosphere of sophistication and high class style is hard to relate to an old work-a-day Post office.  .
It opened its doors in its new guise in October 2004 and work is still being done.  Even the tarps that protect passersby from the scaffolding are out of the ordinary.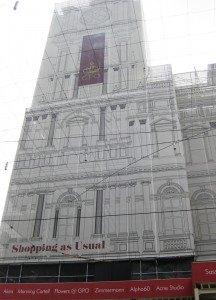 It is nice to shown what is behind the protective sheeting.
Anytime you are near the building pop in and take in these exhibitions of creativity.  They change so keep on checking. I'm looking forward to what they will do for Christmas.
The GPO:-
Corner of Bourke Street and Elizabeth Street
Melbourne City Centre
Opening Hours:-
Monday to Saturday 10am to 6pm
Sunday 11am to 5pm.