The Grosvenor Hotel was lit up on a cold rainy night and on a whim we went in for an early meal.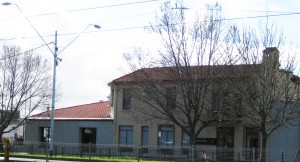 Grosvenor Hotel
We arrived shortly after 6pm and for a good three quarters of an hour we had the Bistro to ourselves and the waiter's full attention.  We needed this attention.  The Bistro has an Italian flavour and lacking knowledge of the Italian language we found some of the expressions and words on the menu confusing.   The waiter who had memorised the daunting number of specials was able to explain what we needed to know.   It makes for secure dining when your waiter knows what the food is all about.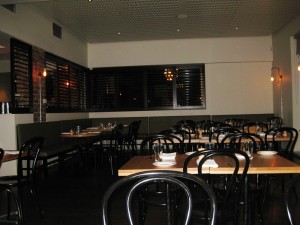 Bistro – Grosvenor Hotel
One of the group chose 'Durum wheat fusilli, almond, chilly and parsley pesto from Trapani with pecorino pepato' This was listed under pasta and that, of course, is what it was.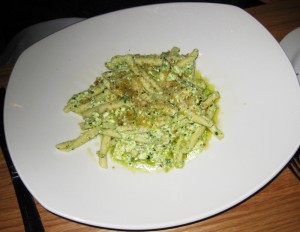 Durum wheat fusilli
My other companion and I ordered 'Kid goat slowly roasted in wood fire oven with peas, potato and five herbs'.  This was much the better choice.  It was delicious and the meat just fell off the bones.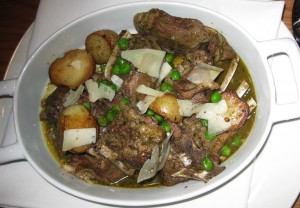 Kid goat slowly roasted in wood fire oven
My friend who had the pasta felt it was a little bland and wasn't hot enough.  She believes that they served it early and kept it waiting.  When she mentioned that she would have liked it hotter it was explained that was how it should be – something to do with the cheese.  So if you like your pasta steaming hot this isn't the dish for you.
There is an array of desserts.  Our table had 'Tiramisu al Fruiti Di Bosco' which tasted good but unlike your average Tiramisu but none the worse for that.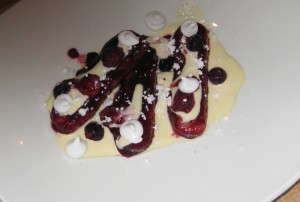 Tiramisu al Fruiti Di Bosco
And 'Buffalo Panna Cotta with cantucci crumble, orange and vin santo syrup',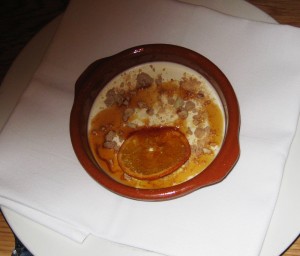 Buffalo Panna Cotta
We shared a bottle of Merlot Çhurchview 'Silverleaf' Margaret River $26.00.  Very good drinking especially with the goat.
Seven o'clock appears to the magic hour for dining in St Kilda and when the clock hit seven the restaurant began to fill up.
The food was interesting with the goat being outstanding  for a cold winter's night.
We plan to return and try the bar food menu.  It is opens for lunch so that could be an option.
The menus are available on line here and I suggest you have a look at it before you go.  That would have served us well.  We could have given more attention to the specials and with so much to ponder I missed an entree that I later wished I had tried 'stuffed zucchini flowers with ricotta and pecorino pepato mousse, fregola salade'.
The wines on the wine list are all available in the drive through bottle store at $10.00 less than the wine menu price. So if you liked your choice you can grab a bottle on your way out, knock $10.00 off the price and drink more at home.
The menu identifies dishes that are gluten free and vegetarian.

Where:-
Grosvenor Hotel
10 Brighton Road
St Kilda East.
Phone: 9531 1542
Web: http://www.grosvenorhotel.com.au/
Opening Hours:-
The Bistro opens for dinner from 6pm
The Wine Bar is open all day from 12 noon.
Getting there:-
Tram : 67 tram stops out side
Car: There is a  parking space behind the hotel with the entrance off Grosvenor Street and street parking in the side streets – try Brunning Street