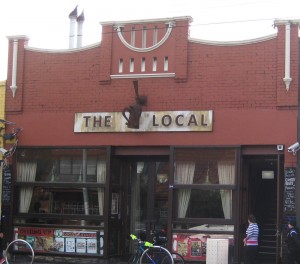 There are always people around the entrance to The Local Taphouse in Balaclava.  One reason is because it is right on a tram stop and another is that the downstairs bar is popular and people sometimes spill out particularly in the summer.
Last week on a surprisingly sunny July day I ate in the restaurant for the first time.
The entrance to the restaurant and the roof-top outdoor terrace is somewhat hidden.
Narrow stairs lead up from the street to a bar, a dining room and the roof-top terrace.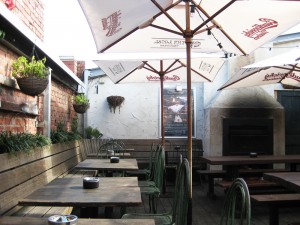 This is a beer place and the menu of boutique beers is extensive and information about beer is everywhere.
We didn't go for the beer but for the atmosphere and the food of which we had heard good reports.  There is a wine list, too, and our bottle of Saugvion Blanc recommended by the Barman was good drinking at $38.00.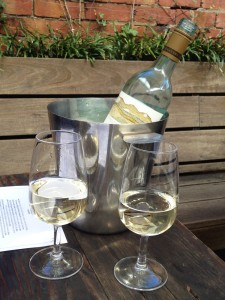 We checkout some blogs before we went and the hamburgers got a great rave.  If you read other posts in this blog you will know that I find it hard to go past a good hamburgers and chips.
We ordered the Veggie Burger and the Three Beer Beef Burger.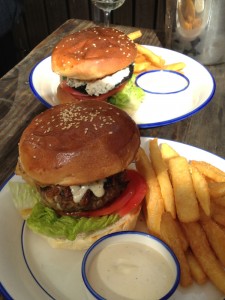 After the photographic session we cut them in half so we could both check them out.
My companion is exceptionally good at dividing food.   She does a superb job of sliding half a regular pizza from one plate to another.  She proved that these skills could be applied to hamburgers.  The Vegetarian Burger was wonderful with perfectly cooked large brown mushrooms acting as the meat. The Three Beer  Beef  Burger was equally good and so was the onion ring.  I would order them again.
The chips were heaven.  If you are there to sample the beer, try a bowl of chips to go with your selection.  You couldn't do better.
We sat outside in a sunny corner of the roof terrace.   It was warm when we arrived then the temperature dropped while we ate and we could have done with some gas heating.  There is also a large fireplace that is lit in the winter.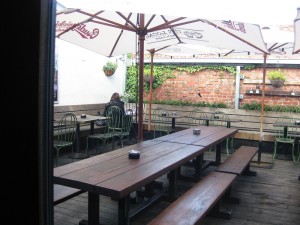 Inside it was warm and cozy with lots of wood to give it a homey feeling.  An easy place to relax over a couple of drinks.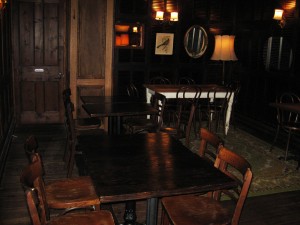 We thought the wine and the food reasonably priced but my friend pointed out that if we had drunk beer we could have paid a lot more.  Apparently this had happened to a friend who ordered beers without thinking of the price.  Beer is a specialty and you could expect these craft beers it to be pricey.
The Local Taproom is in Carlisle Street nestled between the St Kilda Library and Chapel Street.
More information on the web page:-  Here  http://www.thelocal.com.au/
Where:- 184 Carlisle Street, St Kilda East 3183
Opening Hours: - Every day, Noon until 1.00am
Getting there:-
Train: The Sandringham Line to Balaclava Station
Tram: 79/79, 3 16, The stop is at the corner of Carlisle and Chapel Streets.