Last week I had lunch at the buffet in the Melba Room at the Langham Hotel, Southbank, for the second time.  It proved to be as good as my first visit about nine months ago.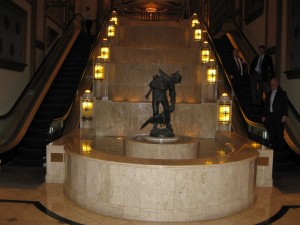 The grand staircase leading to the Melba Room.
On this cold, bleak, winter Friday the dining room was almost full.  Proving what I have always thought; a cold bleak day is an ideal day to spend eating.
This trip empathized just how great and varied the food is at the Melba Room buffet.
The Melba Room opens at noon and steadily fills up.
To me the lunch time buffet in the Melba Room is all about eating.  The light, bright and elegant dining area is heavy with food and it needs to be eaten.
As we had been before and knew what was available we decided to plan our meal.  That is, put some order into our eating and treat it like traditional feast with numerous courses.
I decided to pass on the soup – it was vichyssoise (leek and potato) which I make myself.
I began with hors d'oeuvres and headed for the cold meats and salads – delicious.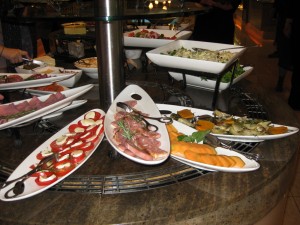 Then on to the fish course – prawns and crab and I added sushi to this course as a sort of sub course.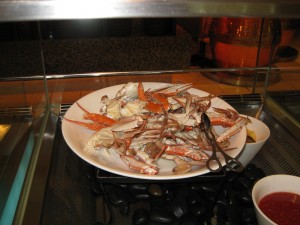 The sushi is made to your own personal order.  The more knowledgeable about sushi you are the more you can vary what ends up on your plate.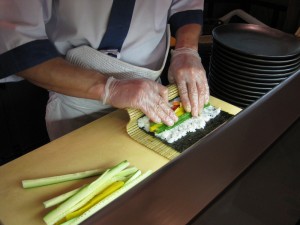 I liked the idea of a stir fry for the next course, it was light with rice noodles available and scallops.  The scallops were for use only by the stir-fry cook, not to be confused with the fish course– again we chose the ingredients.
You may think by now enough food has been consumed but think on those long Italian Lunches; course after course comes from the kitchen to the table and into continually munching and talking mouths.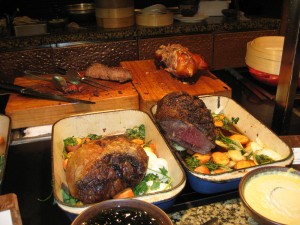 It was now time for roast beef and the wonderful roasted vegetables – a sort of heavy main course.  It  lacked  Yorkshire pudding. I wonder if the cooks can cook Yorkshire pudding.  Has it gone out fashion?  My mother always cooked it with roast beef.
By this time a good two hours had gone by and it was time for deserts.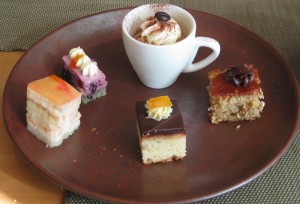 Each desert is a perfect miniature
This slice was a work of art – as nice to look at as it was to eat.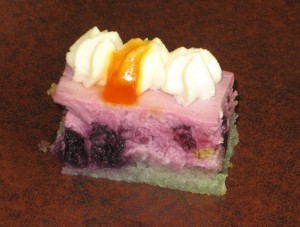 Finally coffee and cheese.
We will be back and then I'll try the curries.  What course in a great English feast would include curry?  And I missed the Chinese dumplings on this visit…………there is still more food to sample.
Times:
The Melba Room starts serving luncheon at noon, the hot food is removed at 2.30 and the restaurant closes at 4.00 to prepare for dinner.
Costs:
Monday to Friday  $49.00.
Prices in the weekend are higher
Saturday $75.00
Sunday $84.00
It is suggested you book especially on Saturday and Sunday when it can be very busy.
Getting there:
The Melba Room, The Langham Hotel, 1 Southgate Avenue, Southgate
Phone:- 8696 8888.
You can enter from The Southbank Promenade along the river or it is just off St Kilda Road, in Southgate Avenue
Trams:
Any tram that goes to Federation Square or Flinders Street Station will get you there.
Cars:-
There is parking underneath – remember to get your parking ticket validated when you pay for your meal.