The Oriental Tea House is something different.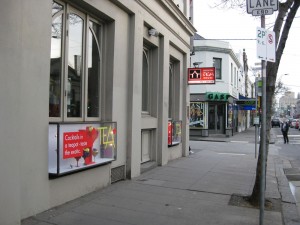 The Oriental Tea house in Chapel Street was once a pub
Yum Cha on Sunday is something I enjoy – watching the trolleys come past, studying the food and deciding 'yes' or 'no'.  The frustrating part is that when I have eaten enough I see something new appear from the kitchen, glide past me and I am temped all over again.
At the Oriental Tea House there is none of this.   You order your Yum Cha from the menu.  It is rather like a 'Chinese Tapas'.
You can pop in at any time during the day order a tea and a Yum Cha snack.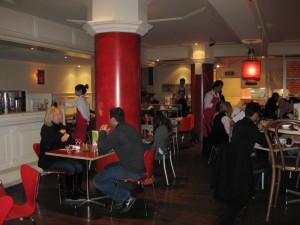 I ate at the Oriental Tea House on Chapel Street for the first time before we attended a gold class session of 'Sex and the City 2' at the Jam Factory.
We went early to give us time to talk, relax and to get into the mood for the glamour and style we were to see on the screen. It was a good choice.
The good thing about the Oriental Tea House is that it severs the same food all the time so we could create our own stylish early dinner.
The name ' The Oriental Tea House' appeals to me.  Just the sound is relaxing.  The clean white open space when you enter, with the store of interesting teas and other merchandise including Chinese herbs in the front and then the restaurant at the rear, is welcoming and soothing.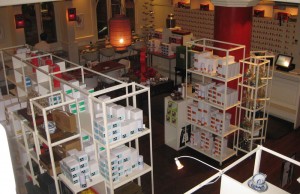 I like the emphasis on tea but as we were preparing to watch over-the-top glamour on the screen we decided bubbles were appropriate.
This is what we ordered:-
Spinach Seafood Soup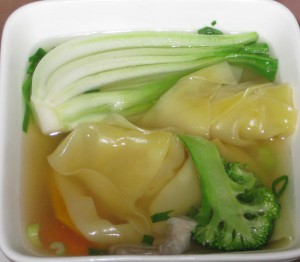 Won Ton Soup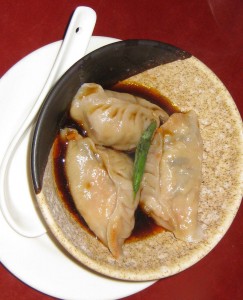 Vegetarian Buckweat Dumplings with Chilli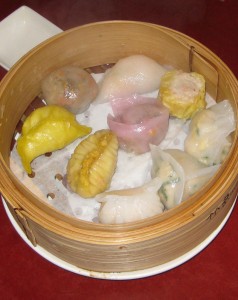 Delux Basket (nine different pieces of dumplings steamed in a large basket).
Calamari in Spicy Salt
The dishes appeared haphazardly with the squid coming a distant last.  It occurs to me now that each dish may travel from the kitchen as soon as it is cooked – something to think about when you order.  If you order soup it is nice to both get your soup at the same time.
The dumplings are delicious. The best I have had recently.  As I write this I am still thinking about them and plan to pop in for one of their teas and a 'variety basket' of dumplings.  At $6.90 it is excellent value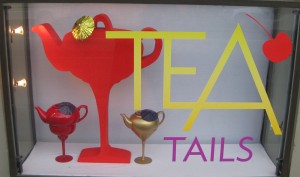 We didn't try the Tea-Tails – cocktails made with tea blends.  The idea of a tea based cocktail served in a teapot is a whimsy that brings a smile to the face – it has to be worth a try.
Here is an example of some that are available:-
Campari Treasure 8.5
Bitter sweet with a hint of orange Campari.
+ Calm & Concentration TEA served on ice
Russian Spy in Shanghai 8.5
This one really packs a punch with Vodka
+ Gun Powder TEA served with fresh lime
Baileys Kiss 8.5
Spicy with a tasty kick of Baileys & milk
+ Chai TEA served over ice
Luck of the Irish 8.5
One to really help you unwind with a warm blend of Irish Whisky
+ Relaxing TEA
Where:-
The Oriental Tea House
455 Chapel Street
South Yarra (opposite Bridie O'Reilly's)
Phone:-Restaurant 9826 0168
Web site:-
http://www.orientalteahouse.com.au/chapel-street/w1/i1001202/
Opening Hours:-
10am until late – every day.
Getting there:-
No 8 Tram to Toorak. Get off at the corner of Toorak Road and Chapel Street.
No 78  Tram – this tram runs along Chapel Street from St Kilda to Richmond.