The Palmerston Hotel has been around forever or so it seems.  I have driven past it countless times.  It is something to look at when you are jammed in a traffic snarl on Kings Way.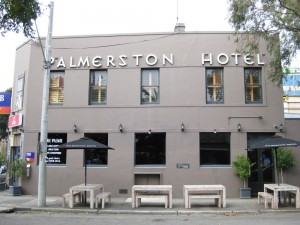 On warm summer days you can see patrons outside.  While I am imprisoned in my car I haven't warmed to people who are having a good time at The Palmerston and I never thought of going there until a friend suggested it as a place for lunch.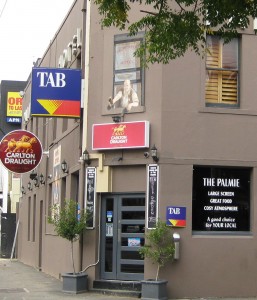 She often eats there and has done for years, she explained.  Not quite her local but some of the staff know her – although not by name!
We arrived about 12.30 and the bar area was buzzing.  Sport was playing on the TV.  There is a beer garden but only a few hardy souls were out there perched on the high stools on this chilly winter's day
Like the business men we ate in the dining room where the sport was not intrusive.  We chose a table different to the one we were directed to.  There is something lonely about being at a table for two in the middle of a dining area while everyone else is seated around the wall.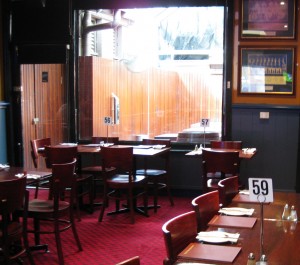 The menu is what you would expect for a pub.  There are a couple of slow cooked pork belly dishes.  I wonder why this fatty part of the pig has become so popular?
I am boringly predicable and I ordered a hamburger without the beetroot!  My friend a Celiac had her usual tuna patties that are gluten free.  This dish is obviously tasty and worth trying considering how often my friend orders it.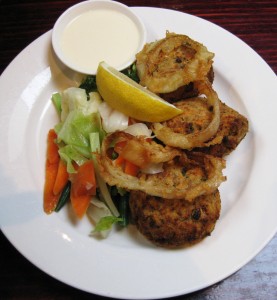 The hamburger does not rate as one to order again.  A dry small patty with some bacon, a tomato that still had that hard core in it and a slice of tasteless cheese all resting on a bun that had become so hard the knife wouldn't cut through it.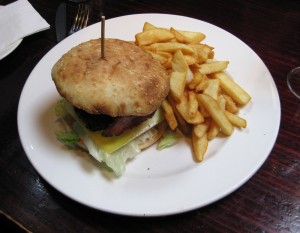 There may have been trouble in the kitchen to account for this.  We did hear loud voices and understood why we were offered a different table.  The one we chose was near the kitchen.
My friend kept apologising for the hamburger as if she had cooked it herself – but then she did suggest the pub.Perhaps it was the cook's day off.
Not everything runs smoothly on Master Chief either.
When paid we were handed this flier.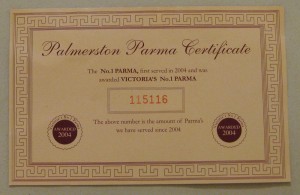 To get the best value from the pub perhaps we should gave ordered a Parmigiana.
The 115116 people who have eaten their parma since 2004 can't be wrong.  Are you a parmigiana  eater? Try one at the Palmerston Hotel and report back.
The Pinot Noir from Tasmania, recommended by our waiter, was great drinking and something to return for.
On a sunny day the beer garden would be lovely.  The entrance is round the corner from Kings Road in Palmerston Crescent.  That is a lovely street, where there is parking. Take a look at the little old houses – the area has character and charm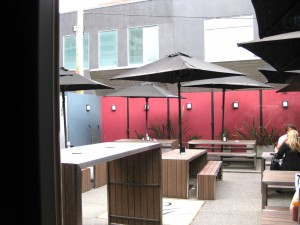 The Palmerston Hotel
51 Palmerston Crescent (corner of Kings Way)
South Melbourne 3205
Phone:-96905749
Open:-
6 days a week (closed Sundays) 11am until late
Monday to Friday – Lunch 12 – 3.00pm
Dinner 6 – 9pm
Saturdays -        Lunch and dinner service all day
Getting There:-
The no 112 tram goes along Clarendon Street
You can walk from Clarendon Street along Palmerston Crescent.  It is a short walk.
To check further about tram routes you can ring
Operator: Yarra Trams
Contact: 1800 800 007