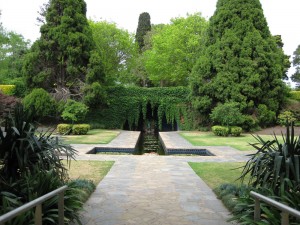 I believe some of this tranquility comes from the  formal and the symmetrical design.  It is pleasing to the eye and it seems to balance  the mind.  Or maybe it is just the over-all beauty of the design.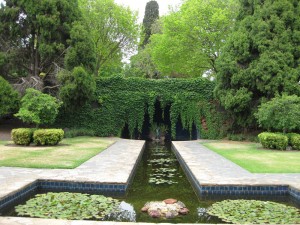 The garden was officially opened in 1935. It was designed by Hugh Linakar as part of Victoria's centenary celebrations.   It is a sunken garden cut into the side of the hill, an aspect that gives it privacy and form.
The cross shaped water canal leads to a blue tiled grotto.  This is the centre piece of the garden.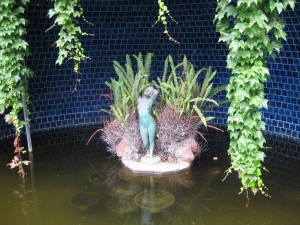 The delicate bronze figure by Charles Web-Gilbert's of a woman is set in the centre of the grotto.  The gardeners have let the ivy from above fall towards the water below and although this partly covers the plaques it softens the feature.  Water lilies grow in the canal.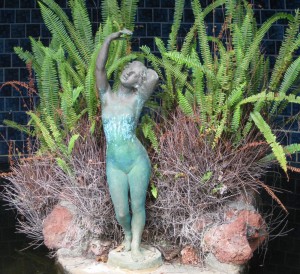 There are no seats provided but there is plenty of grass for a rug.  The garden was dedicated to Victoria's  pioneer women.  This place is a beautiful tribute to their hard work, their dedication to their new country and to their families.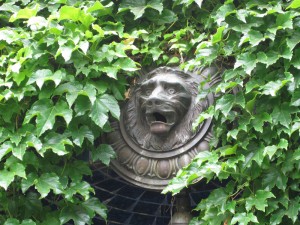 Last time we were there we found ourselves discussing what the lives of these pioneer women would have been like and  how different our lives are.   We didn't envy them.   We gave a quiet thank you to these early pioneers for helping making what we have today possible.
We agreed that one of the big differences is choices.  What choices did those women have?
This garden is a truly beautiful memorial to them.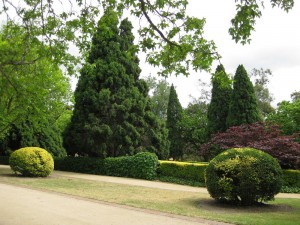 This is the top of the sunken garden viewed as you approach from Birdwood Avenue.
This area is adjacent to the Botanical Gardens and is part of The Domain Parklands
You can down load information and a map to the The Domain Parklands here.
Getting there:-
Any tram from Federation Square that runs along St Kilda Road as far as the Domain Road Intersection, or if you want to get off in Domain Road and walk across the parklands from there catch the No 8.
There is metered parking along Birdwood Avenue and Linlithgow Avenue.