The Red Door has been operating in the same space for number years.  I have seen the red door and the beautiful street art on the side of the wall but never visited until now.  I'm not sure why.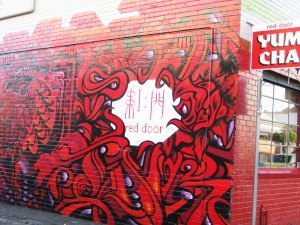 A strong recommendation from a colleague prompted my first visit.  She went on a week day evening and loved the food.  She likened it to tapas and it is a kind of Yum Char that you order from the menu.
She took a bunch of cards while she was there and distributed them around the office.  We joked that she was getting commission but she said it was that she enjoyed the atmosphere and the food she wanted us to know about it.
The atmosphere is something else – I haven't experienced it before.  Take a look at these photos.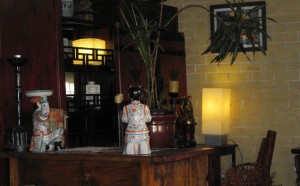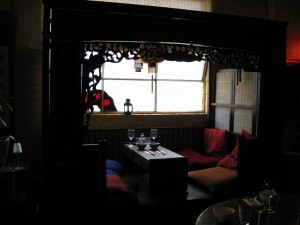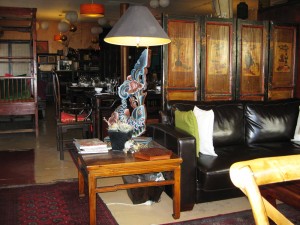 One of the things I like about Yum Char is seeing the dishes pass-by giving a visual view before you decide to sample.  For this to really work you need to go to a large busy Chinese restaurant where they cater for a large number of people.  Then you get variety and freshly cooked dishes.   A smaller place doesn't give you the same variety and I think that often dishes go round and round for a couple of hours.
The Red Door is a smaller place.  A strange place when you walk in.  It is full of Chinese antiques.  It is wonderful.  Rather like eating in a relaxed antique shop.
We went for Saturday lunch and we chose to eat at a table in the window.  If we weren't addicted to people gazing while we talk  we would have had a different experience of being swallowed into a different world by choosing a table in the interior.  Well try that next time.
You can see the Red Door Menu here
We chose Prawn and Crab Dumplings, Vegetarian Jiao Zi, Duck Bean Curd Wrap, Northern Chive & Prawn Dumplings.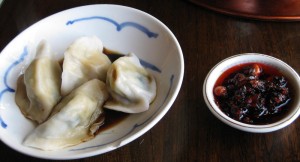 Vegetarian Jiao Zi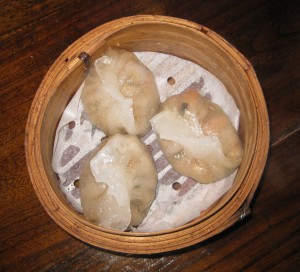 Prawn & Crab Dumplings
For desert we had Red bean and Custard sweet buns.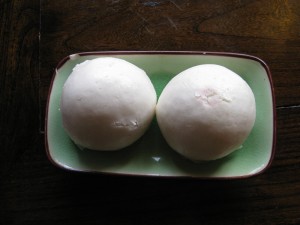 These Red Bean sweet buns were delicious.
In fact all the food was good and I thanked my colleague for the recommendation that took us to the Red Door.  We will be back.
Red Door:-
1  McIlwrick Street,(off Chapel Street)
Windsor
Phone 9510 9658
Opening Hours:-
Monday:     Closed
Tuesday:    Dinner only  6pm-10pm
Wednesday to Sunday:  Lunch 12pm-3pm  Dinner 6pm-10pm
Web:-
http://reddooryumcha.com/r/
Getting there: -
Train:-
The Sandringham Line to Windsor Station – McIlwrick Street is opposite the station.
78 Tram:-
This tram runs from St Kilda East to Richmond along Chapel Street.