The nice thing about doing this blog is that I keep learning more interesting information about Melbourne from the comments people leave on my posts.  I have written about this beautiful and tranquil garden before in the The Pioneer Women's Memorial Garden Post. Julie has left a comment asking about the  capsule that is underneath the sundial.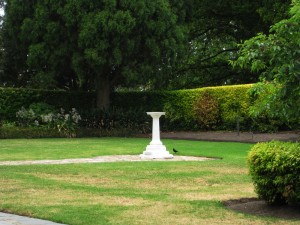 This is the result of a fund raiser for the establishment of the garden.  In the 1930s women paid one shilling to put their name or the name of a pioneer woman ancestor on a list. I have read that thousands of names – the exact number doesn't appear to be recorded anywhere-  were collected and the capsule was buried under the sun dial with the supervision of the Unemployment Relief Programme.  Thinking on that it suggests that one shilling was a lot of money for people to pay.  There is a plaque.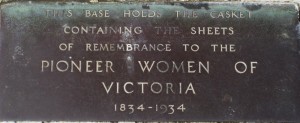 Julie asks if there was a copy taken of the names and a record kept of them.  From what I can understand that wasn't done.  I imagine that in the 1930s it wasn't easy to copy documents.
Does anyone else have any further information?  It is good to remember the women who helped to make this country great.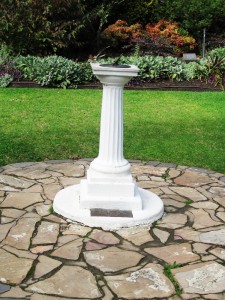 Getting there:-
The Pioneer Women's Memorial Garden
Any tram from Federation Square that runs along St Kilda Road as far as the Domain Road Intersection, or if you want to get off in Domain Road and walk across the park lands from there catch the No 8.
There is metered parking along Birdwood Avenue and Linlithgow Avenue.