The market opened on the last evening of October.  It was a good start.  The weather was pleasant, sunny and coolish and the people were turning up.
This a craft market with food.  I am only going to look at the craft in this post and leave the food for another post.
The craft is a showcase for creativity -  ideas on their own are nothing, you have to bring them to fruition and the stall holders at this market have done just that.  There are some great outcomes at the South Melbourne Night Market.
These are some of the things that caught my eye on the opening night.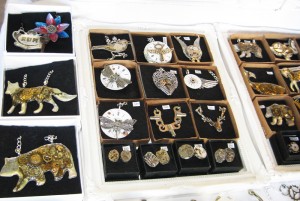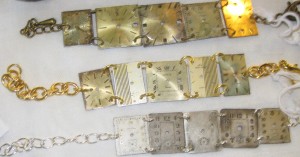 Look closely at these pictures and you will see that everything has been created with parts of watches. Each piece is unique – a one off.  Sharee  Humphrey who is the creative brain behind the jewellery says, "I have got my local Op Shops sifting through donations that come in and they save any old watches or pieces of watches for me".  In this way she keeps up her supply of parts.  Her pieces are popular and she believes that she will be running low on 'bits of watches' by the time we get to Christmas. This is her web site
It is the colours of the fabrics that first catches the eye at 'retro pop homeware' – then you notice the pictures and designs. Scot van Maanen also has a stall at the Rose Street Market in Fitzroy and he sells through ebay.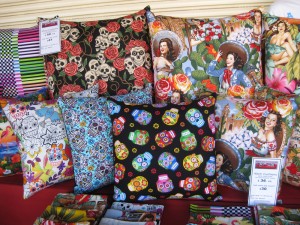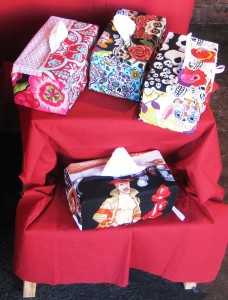 Your pets have their treats here too.
What: The South Melbourne Night Market
When: Between 31st October and 19th December 2013
From: 5.30pm
Parking: Free roof top parking from 5.30
Tram: 96 (Light Rail) from Bourke Street, and get off at the South Melbourne stop. The market is about 2 minutes away.
112 Tram from Collins Street, get off on the corner of Clarendon and York Street
The Stalls are under the wide verandahs surrounding the market so that whatever the weather you are comfortable.