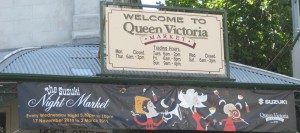 The smell of food cooking leads you to the Suzuki Night Market.   The smell is delicious with the main ingredient being the aroma of barbecuing.  This is strange because when you get into the market there is an incredible selection foods – a chance to eat your way around the world with food from many countries.
This market is held every Wednesday until 2nd of March on the Queen Victoria Market site. It  has  been operating on this site for a number of years and has built up a strong following.
In the unusual weather we are having this summer the evening I went was the first sunny Wednesday for a few weeks.  Not that rain really matters because most of the stalls are under cover. The market opens at 5.30pm and this is the scene at 5.45pm with the crowd  flowing in.  In the fine weather this is where the entertainment is.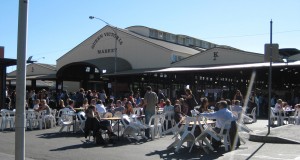 There are a numerous stalls but with the stomach-rumbling smells that meet you on Elizabeth Street most people head to the food section.  There are two food areas both on the right of the walkways.  This gives you some an idea of the fare on offer.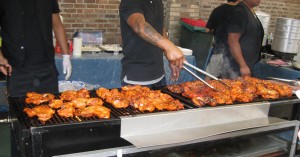 Nepalese food – Chicken Sekuwa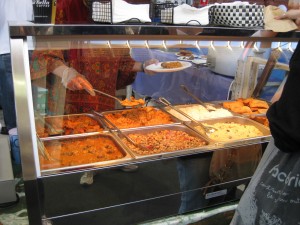 African curries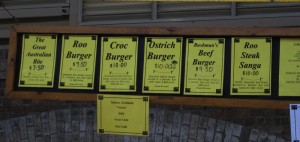 Australian eating – Ostrich Burgers – Croc Burgers – Roo Burgers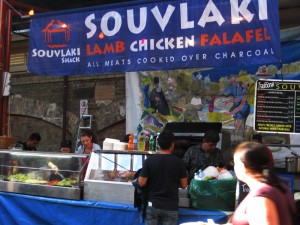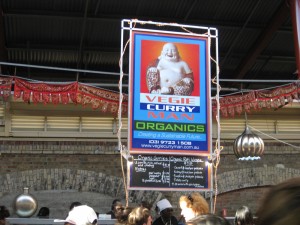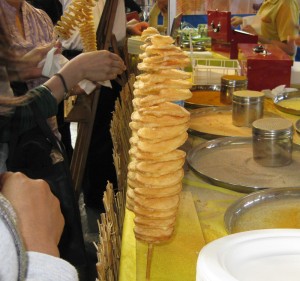 Korean tornado potatoes – these were a hit with queues waiting to be served
Beautiful cup cakes to finish you eating experience.
Prices are good for the food – mostly $10.00 or under with the Korean Tornado Potato at $5.00
Food is not the only interest.  There are numerous stalls of clothing,  jewelry, crafts and an area for tarot reading, massage, reflexology – all good things for the spirit.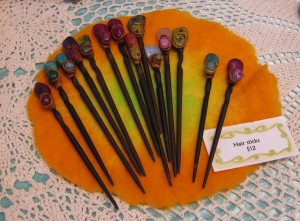 Hair Sticks
coconut watches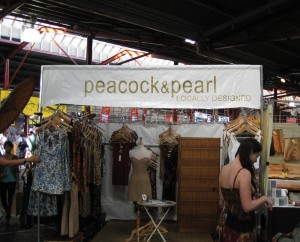 Locally designed clothes
While all this is happening there is entertainment.  Check the web site herefor further information on who is performing.
Where:-
Suzuki Night Market
Queen Victoria Market
Corner of Elizabeth and Queen Streets
Hours:-
5.30pm to 10.00pm
Every Wednesday until March 2nd
Further information
Getting There:-
Tram: Any tram that goes up Elizabeth Street or the Free City Circle and get off at Queen Victoria Market
Train; Get off at Melbourne Central
Web site:-
http://www.qvm.com.au/snm/snm_home.aspx