The Wayside Inn is a stylish Gastro pub in South Melbourne.  When I travel around South Melbourne and Port Melbourne I'm  staggered at how many old hotels/pubs  have  been moved into the modern age with a makeover. It is also astonishing, if you keep your eyes open, just how many  you see that haven't had the make-over treatment.  The place is alive with pubs
It is mind boggling to think how many watering holes were needed to supply liquor to our forefathers.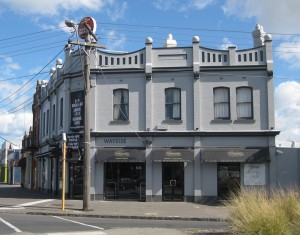 The Wayside Inn Hotel has recently come under new management with a new cook.  They describe their food as having a  'Rustic Italian' influence.  The meal we had on a recent Thursday evening bore this out.
We arrived straight from work on a cold wet evening at around 6pm.  They have a flexible finish time for happy hour and our glasses of a house Margaret River Merlot were still the Happy Hour price of $4.00 –  exceptional value at $4.00
On Thursday they serve a $15.00 steak  and it came with Caponata a Sicilian vegetable stew.  This was delicious.  The Caponata has a sort of sweet/sour taste ( nothing like a serving of Chinese sweet and sour sauce).  It was a subtle but unique taste to me and it went perfectly with my steak that was cooked to perfection.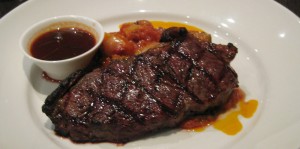 The menu is small and I believe it changes. For desert there is no menu.  There is one choice.  On that Thursday it was Panna Cotta with caramelized figs and syrup.  Perhaps it is always Panna Cotta.  As Pana Cottas go this was up with the best.  I'd go back for the Pana Cotta and coffee.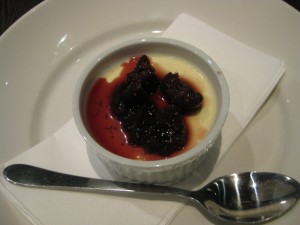 The interior is smart with a hard edge.  The heaters warmed it, the nosh and the wine were good – not a bad way to spend time on a winter evening.
There is a beautiful garden room that makes me think even more of summer.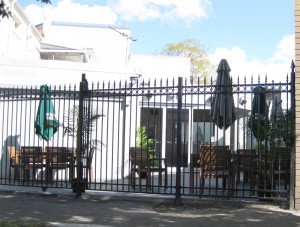 The bar is cosy with a fire in one corner and comfortable couches around it.  You can also eat in the bar.
The staff were wonderful and the cook popped out to discuss the Caponate with us.  I was surprised at how few people were there that night.  However I'm told that Karaoke Night on Friday draws crowds. It begins at 9.00pm.  Karaoke isn't my thing but I will be back for the food.  I can see that the garden bar will be a good place for idling away time on  a warm evening.
The web site www.waysidehotel.com.au gives a menu but it differed from the own we saw.  I like the idea of the menu being flexible  and depending on the cook.
The Wayside Inn Hotel
446 City Rd
South Melbourne VIC 3205
Phone (03) 9682 9119
Opening hours:-
12.00  noon until late.
Getting there:-
Trams:-
Tram 112 from the CBD goes along Clarendon Street.
Get off at the corner of Market and Clarendon Street and wander along Market street until it joins City Road.  The Wayside Hotel is on the corner of City Road and Ferrars Street.
Tram 96 (light rail) Get off at the South Melbourne Station and walk along Ferrars Street to City Road.
Car:-
There is parking in Ferrars Street