Thomas Demand is a conceptual artist where photography is an essential part of the end product.  The photograph is then mounted on Plexiglass.
I got to see Thomas Demand's exhibition, which is now showing at the National Gallery of Victoria, because the price was included in the ticket for Jeff Wall's Photographs at the Ian Potter Gallery (see here).  I knew nothing of Thomas Demand but eagerly went along with a friend.
As a conceptual artist he makes models and then photographs them.
Mostly his models are made from paper and cardboard.
Seventeen of these photographs are on display at the NGV,  including a colour video with sound of furniture in a cafe on a ship being tossed about at sea.
If you go to the exhibition grab a 'programme' as you enter.  This is an A3 sheet of paper folded to A5 size.  The outside is blank not even Thomas Demand's name is on it, so it is easy to miss as you go in.  We did.
Here you get information on Demand's thinking when he created the original models.  Without this background some of the reasoning behind the effort put into creating the models can be unclear.   And the models do represent an effort.  They are meticulously finished and look, at  first glance, to be a photograph of the real thing.  "Control Room"  is a good example of this.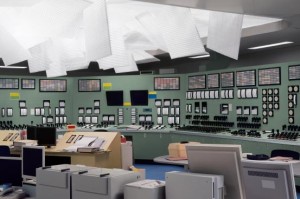 "Bullion"  is explained thus, "gold and paper have been inextricably linked since paper money was first produced." The gold bars are made from paper and look like a stack of gold bullion.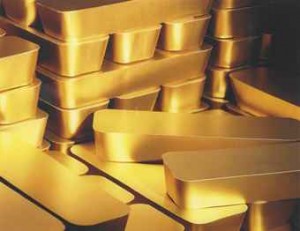 On reading about Demand I found that he destroys all these model after he has photographed them. This seems a pity and I wondered with some, that appear so successful, he has the heart to smash them.  But I guess they have served their purpose.
One of my favourites is 'Clearing'.  To construct  270,000 individual leaves were cut out of paper and other materials.  It is a striking photograph that draws the viewer into its world.

These linked exhibitions, Jeff Wall at the Ian Potter Gallery and Thomas Demand at the NGV are good value at the price and well worth seeing.
What:-
Thomas Demand Photographs
Cost: $15.00 – students and pensioners $12.00
With the purchase of your ticket you get free entry to see Jeff Wall's photographs at the Ian Potter Gallery in Federation Square.
Where:-
National Gallery of Victoria
180 St Kilda Road
Melbourne
Phone:- 8620 2222
Times:-
Until March 17th 2013
Gallery open Wednesday to Monday 10.00am to 5.00pm
CLOSED ON TUESDAY