Get the flavour of East Timor at the Gallery in the St Kilda Town Hall – enter from Carlisle Street.  The gallery is opposite the cashier in the foyer.  You can check out the gallery when you pay for parking permits, rates or other council fees, or just pop  in and take a look.
The current exhibition  'Kitchen Talks: the food and culture of Timor Leste ( East Timor)'  celebrates the culture of East Timor by featuring photographs of traditional food,  recipes and local Timorese cooks.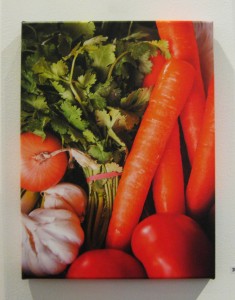 There are several reasons to visit this exhibition.  The first are the stunning photos of the food of East Timor and the local cooks who cook it.  As a blogger I am always snapping away at food so food photos interest me.  Some of these are stunning.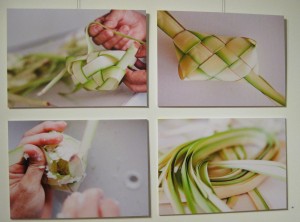 My apologies to Jorge de Araujo who took the originals.  These pale in comparison.
The other reason to visit is the recipes and the information on Timorese food.  For example eating paw paw flowers and how to prepare them.
A brief story of these cooks' backgrounds and journeys to a life in Australia are interesting too.  None of them have had the same experiences!
The photos of these people, mostly women are in black and white.  The black and white is a clever contrast to the bright food.  They are stunning. We don't see enough black and white photos.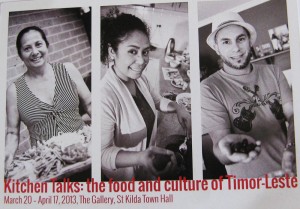 The photos, which I haven't done justice to, are the work of Jorge de Araujo. (check him out).  Carmelita Gomes has done the research and written up the stories and visited the kitchens of these cooks.
The exhibition opens a door to Timorese culture and food. It left me wanting to walk through and know more.
The exhibition ends on 17 the of April with a Festival dinner on April 12th.
For enquiries regarding the dinner and any other information call 9209 6777.
It is worth catching these photos if it is only for the photographer's skills with food.
Where:-
The Gallery,
St Kilda Town Hall
99A Carlisile Street (opposite the library)
When:-
March 20th to April 17th.
Opening hours:-
Monday to Friday 8.30am to 5.00pm
Getting there:-
Trams 16, 3, from the CBD and 78 from Richmond