The Minh Phat Supermarket in Richmond makes a lie of the saying "one supermarket is  much like the next".  The isles here are not full of familiar brands,or things we have seen a hundred times before.  Minh Phat Supermarket, in Nicholson  Street  just off Victoria Street, Richmond is different – very different.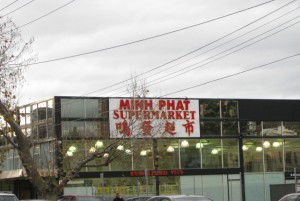 I'd been shopping and enjoying the vibes of Victoria Street for some time before I found it.  That sounds silly because now I know where it is,  I can't understand how I missed it.  But I did.   There's an empty lot next door so perhaps that helps to hide it from view.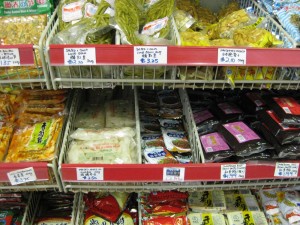 Visiting Minh Phat is fun and stimulating.  There are things like dried and preserved Persimmon,  jars of Korean Kim Chi and lotus seeds, fried and preserved parsnip.   There is a whole isle of teas.  Packets of teas and teas you can buy by the scoop – dried flowers, tiny rose buds and chrysanthemum.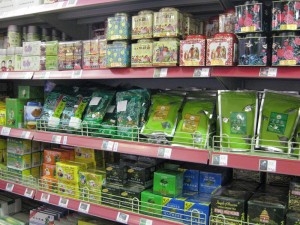 Fresh vegetables too.   Everything you would expect in a green grocery section and then there are things you wouldn't expect – bunches of Chives in flower and garlic shoots.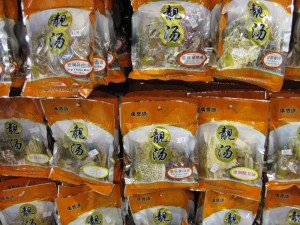 It is impossible to know what some of the things are as there is not a word of English on the packaging.   It is a bit like a game of chance.  Try to work out what it is, buy it and find out if you were right when you get it home.
You can buy cooking utensils and crockery.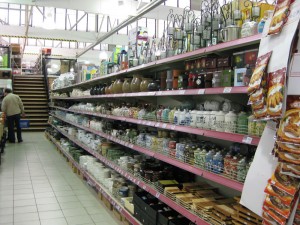 I have experimented, successfully, with a Thai Dessert – rather like an instant pudding but more delicious and everything is written in English – Thai Tapioca Pearl and Black Bean in Coconut Milk.  Classy and the flavours grow on you and you need to go back for more.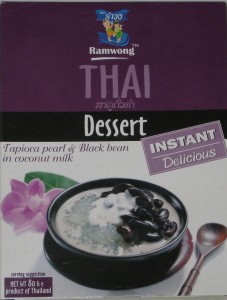 Minh Phat Supermarket, 178 -180 Victoria Street, or alternatively 2 – 8 Nicholson Street, Richmond.  It is just around the corner from Victoria Street, next to a vacant lot.
Getting there:
The 109 Tram from Port Melbourne goes along Collins Street – through the CBD and then along Victoria Street in Richmond.
The 78 Tram runs the full length of Chapel Street from St Kilda East, through Prahran into Church Street and terminates at the corner of Church Street and Victoria Street, Richmond. This is a great tram if you live along the route.
There's one hour meter parking in Victoria Street.