W-class trams date back to the 1930's.
W-class Tram at the corner of Chapel and Carlisle Street
A W-class tram was the first tram I rode in Melbourne.  It was before I lived here and in the days when there was a conductor on board.
I clambered up the high wooden step and sat on a hard seat and fell in love with these charming yellow and green vehicles.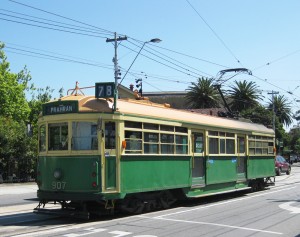 Now these wonderful old trams have almost gone.  The green and yellow ones on Prahran to Richmond route are to phased out and scrapped.  So clamber aboard one of these work horses of the public transport system while you can.  They will be history soon.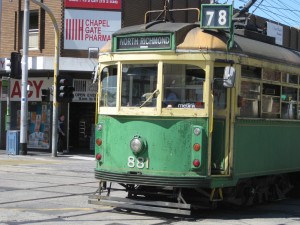 You can see how badly they are being maintained.
There are some W-class trams that have been painted a dull red for the tourists.  They don't feel like the real thing to me and I haven't photographed one.   The real thing is painted green and yellow!
To take a ride back  in time.  Take the 78/79 tram from St Kilda to Richmond North (78 during the day and 79 at night).  The W-class is  still in every-day use on these tracks.
This is one of the few tram routes that doesn't go through the CBD.  It travels in a straight line along  Chapel Street and into Church Street.
News reports tell us these trams are for the scrap heap.   You can check out what is happening at this web site.  So instead of being shaken and joggled on this route in future we can expect to glide along as one would on, say, route 6 which always carries new sleeker models. No charm there.
Grab the opportunity and grab a 78 and slowly progress along Chapel Street, and into Church Street until you get Victoria Street, Richmond – the home of  Vietnamese cafes and the Minh Phat Supermarket.
This is not a comfortable ride.  People have described the trams as the 'old green W-class rattlers'.  It is the charm of Melbourne's past you are experiencing.  In the recent TV mini-series "Pacific" about World War II, two of the characters flirted on a W-class tram.  I wonder if they borrowed one from route 78 for the filming?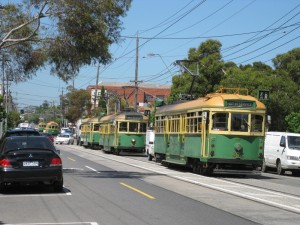 Recently a number of the W-class trams congregated in St Kilda – There are 6 in this photo.
Tram route 78/79 is an interesting route to travel.  Starting in St Kilda, that is the Chapel Street end of St Kilda, the tram picks up many people who make short journeys – sometimes only one or two stops.  Then you cross Dandenong Road and head into Windsor with its eclectic collection of op shops, cafes, designer shops and the fascinating Tarlo and Graham shop.  From Windsor it's across High Street and into  Prahran and South Yarra.  Chapel Street is packed with cars so the journey is slow.  This gives you a change to gaze around.  It is a great area to 'people watch' – some are walking faster than you are travelling.   Across the Yarra and you are into Church Street and the speed picks up.  This segment is filled with furniture design emporiums and exotic car show rooms.  It is here that you can view the latest Ferrari or Maserati.  Finally you arrive at North Richmond where you can take the 109 (always a sleek modern tram) into the CBD or ride back the way you came.
A good place to board a W-class tram is the corner of Chapel and Carlisle Streets.  The no 3 and 16 trams from the CBD intersect with it here.  The number 6 intersects at High Street and the No 72 at Commercial Road.
What:-
W-Class Trams – Route 78/79
Trams run every half hour – about 5  and 35 past the hour from the St Kilda terminus
Check out the timetables here:-
78 daytime tram-
79 Night-time tram  slightly changed route goes to St Kilda Beach