Walk!!!!
It is what we should all be doing. So says a friend who is a health professional.
"What you need to do to stay fit is walk." She says this with great firmness   "Get out there and walk."
I began my fitness walk last Sunday.
I headed from tram stop 36 on Dandenong  Road at the edge of East Prahran into Chomley Street.  This tram stop serves the number 64 tram to East Brighton and the number 5 tram to Malvern.
It was early morning when I started.  Walking takes up more time than jogging but it is much easier on the knees.  An early start meant that I had time in the day for other things.  Things like sitting in the sun, if it came out, and drinking a glass of wine and feeling smug about the morning exercise.
I used to work around East Prahran . I fell in love with the narrow streets and the pretty Victorian houses in the area and I remember Chomley Street very well. I was eager to visit again. I like the way Chomley Street starts wide at the Dandenong Road end, where I began and narrows at the cosy local Milk Bar about mid way along.
Diaries written by settlers in the mid and early 1800s say the area was boggy and marshy.   In the early morning on a winter's day I can  believe it   There is no sign of bog now of course, but that morning a sort of dank winter-mist hung over this end of the street.
Mr Joseph Harris wrote in 1860 that it was easy to shoot wild fowl in these swamps.  He records himself shooting coots, water hens, snipe and wild black duck.  Possibility it was like shooting fish in a barrel. As I walked along I thought of those beautiful dead water birds lying about rotting.  It was a little depressing. I hope he plucked and ate his kill. The only birds I saw were miners squawking and screeching and a large black rook that sat on the nature strip and yelled up at me.
I should be walking along at a fast and consistent pace.  That's what this walking is about; keeping fit. Instead I dawdled along and peered over fences.  I noticed one flourishing Daphne bush in a well tended garden doing its part in adding a sweet perfume to area; killing out the stench of Mr Harris's dead birds.
Actually I couldn't smell either the Daphne or the birds just a fresh early morning smell.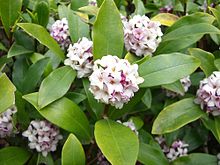 This end of the street is filled with Edwardian houses and large old blocks of apartments from the 1960's and 1970's. I got to know these apartments very well while I worked here.  Not much has changed.
Where the street narrows and flows towards High Street there are changes.  Some large construction projects are under way and a few pretty Victorian cottages have had a makeover with a large double story extension added.
Do we still run down to the local milk bar for our milk or an ice cream on a hot summer's night?
Milk bars are part of city life in and we obviously run to them for something.
This one tucked away in suburban Chomley Street is thriving and I know of another one that is hidden in the suburban landscape on Alexandra Road in East St Kilda.  Long may they snuggle there and survive.
I left the lovely Victorian villas with their decorated fronts and turned onto High Street and towards Windsor where I was stunned by these amazing flowers. They are in front of a church at 388 High Street – opposite Victoria Gardens.
The plant is called Agave Attenuata and although they are a native Mexican they are common here in Melbourne.  I had one in a pot awhile ago but it didn't flower.  Google tells me that it can take up to ten years for them to flower.
I consider myself lucky to have seen them.  Ten years is a long time to have them around waiting for a flower.  I think it is miraculous that these two are flowering together.  Ten years in the developing stage and they dance together. Like synchronized swimming – so much work and effort to be in sync.
I have decided not to stop for coffee when I walk for fitness.  It is exercise not a convivial morning out. It is very tempting but I am being strong.
There are two likely places for a coffee if that is in your plan.
Spoonful that has been in its position at 543 High Street for years http://spoonful.net.au/cafe/
or the Fourth Chapter at 385 High Street http://www.fourthchapter.com.au/
I'll describe my next walk – that's a commitment so I'll keep walking