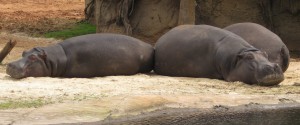 Melbourne's Open Zoo at Werribee is exactly what it says – an open Zoo.  Therefore the animals are all living in large spaces and are able to roam about in these spaces, freely.  A great plus for the animals but there is a down side for the patrons of the Zoo.  Some of the animals are roaming and doing their own thing so successfully that at our recent visit we didn't see them.   The cheaters and the wild dogs were so distant they could have been in another state.
They did their own thing out of sight of the public.  I have every sympathy for them.  Who wants to be gawked at?
We did have the opportunity to gawk at some animals and this made the visit worthwhile.  I was able to peer at a rhinoceros from the window of the Safari Bus (The Safari Tour is included in the entry price.)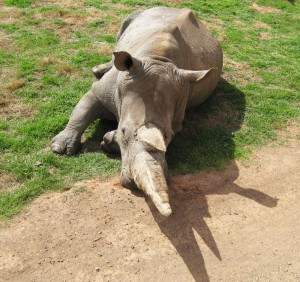 The bus parked so closely that we could look at the  consistency of their tusks.  For some reason this seemed like an enormous treat.  I hadn't realised that I wanted to eye ball a Rhino in that way but I found the experience one that made the whole trip to the Zoo worthwhile.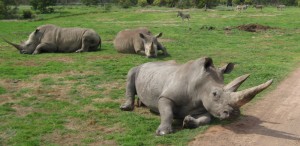 I would have felt the same about the hippos and I did, sort of, but they were further away and  the intimacy was missing.  The intimacy with the Gorillas was there.  They too have a large –let's-hide-away enclosure but at meal-time the keepers put food by a thick glass viewing area so they ate there giving us a close-up view of their powerful head.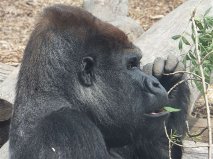 It also gave a view of their powerful muscular body rather like that of a man who works out-doors labouring.  I understand the two we saw were males.   Muscles rippled under their beautiful coats when they moved.  They behaved as if they couldn't see the excited faces pressed against the glass.   Were we just window dressing?  Yet on a couple of occasions the huge head turned and the eyes slowly  passed over us and then the head turned away.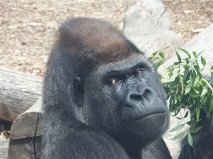 I wondered what had been seen – faces a bit like theirs, themselves in a different guise or just a blur?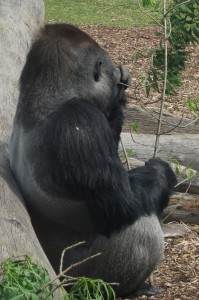 Werribee Zoo if fun.  It is a happy place and one feels the animals are happy.  Our visit was during the school holidays.  Children, toddlers and pushers were everywhere.   It was a large crowd that sunny Wednesday.  Yet the feeling was one of relaxed pleasure and I believe the animals felt the same way.  It was evident that the cheaters and the wild dogs did.  They lay in the sun more-or-less out of sight.
If you want a day-out try the  Werribee ZooZoo.
Check it out here:-
www.zoo.org.au/werribee

Where:
Werribee Zoo
K Road
Werribee VIC
Melways ref: 201 D1
30 minutes from Melbourne
Phone:-(03)9731 9600
Opening Hours:-
9.00am to 5.00pm every day (including Christmas Day and all public holidays)
Getting there:-
This site gives various options.
http://www.zoo.com.au/Werribee/Getting_Here