There is a little known beach between St Kilda Beach and Middle Park Beach called West Beach Reserve.  You can get away from the crowds here.  For some reason fewer people walk this way.

It is here that the City of Port Phillip are nurturing some of the indigenous plants of  the area .  This strip between St Kilda Pier and Fraser Street has all the right conditions for these plants to grow.  There is Scrub, Grassland and Saltmarsh, everything these indigenous plants need.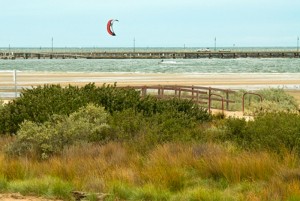 Most of the plantings are fairly recent as you can see and it is to be hoped that they take root and find that this piece of beach is where they want to live and multiply.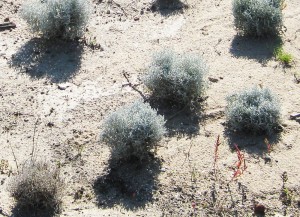 This one of my favourites.  It is a little silvery, springy type of bush and I am keeping watch to see just how it will take and how big it will grow.
Port Phillip City Council have constructed a walkway through the area and it is a very pleasant place to be on a sunny winter morning.  The path winds through the vegetation and there are seats so you can take in the view.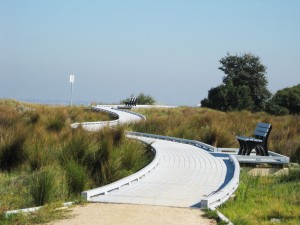 On a clear day the view is spectacular but even on an overcast day the colours can be interesting.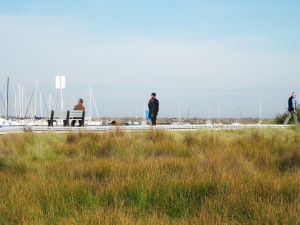 Getting there:-
Tram 96,16 or 3  to St Kilda . Then stroll along Beaconsfield Parade towards Port Melbourne.