Graff Art in Alma Park lifted my spirits on a cold dull winter morning. The wall that separates the Army Reserve buildings from the park are a magnet for Graff Art as well as what I think of as ugly badly formed tags.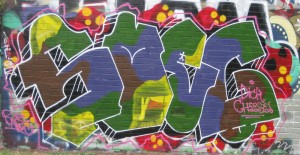 This Piece is one of the best.
I love the colours, the execution and the fact it brightened my morning and made me smile.
Dick Cheese are you the artist?   Thank you for this piece.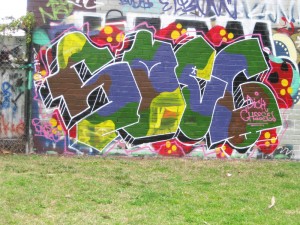 Indiscriminate tagging tends draw my lips into a grim straight line rather than a gentle upward curve especially in the winter when we want to find something up-lifting.
Getting there:-
Alma runs between Dandenong Road and Alma Road just east of Chapel Street.
The 78 Tram runs down Chapel Street and the 64 tram along Dandenong Road.  It's a short walk from both these tram routes.
There is free street parking in Alma Road.